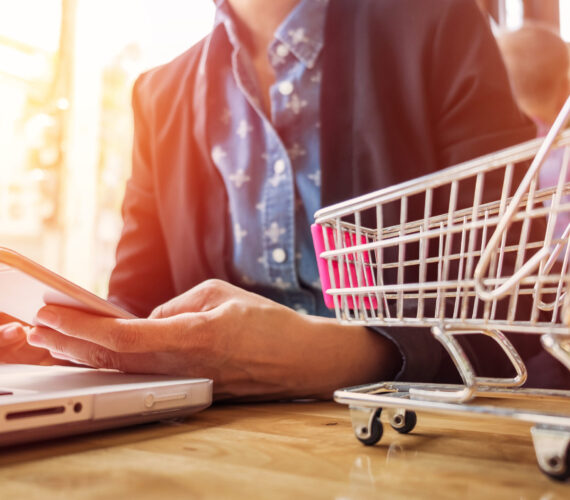 As an E-commerce website design and development company, we offer advanced, result-oriented E-commerce website design services. The best shopping experience for our clients' customers is what we strive for, regardless of whether it is Magento, WooCommerce, BigCommerce, or Hybris. As the leading provider of end-to-end ecommerce solutions, we handle the design, development, and integration of product catalogs and product pages, as well as integration with back-end solutions such as CRM, shipping, and accounting. Aside from designing, developing, and marketing E-commerce websites, we also offer consulting.
The design, development, and management of e-commerce websites are our core competencies as a leading e-commerce website development company.We have an experienced team of E-commerce developers who specialize in leading development platforms, including Magento and Hybris. Aside from assisting you with the complexities and challenges that come with starting an e-store, our E-commerce consultants can also provide guidance and assistance. With our talented E-commerce team, you can be assured of unexpected results, no matter what you're trying to accomplish.
E-commerce Development Services
With Magento enterprise solutions, Talentiqo helps enterprises develop their business portals. By integrating modules and deploying solutions, these solutions can automate business processes to keep up with business demands and transform enterprises into efficient profit models. Without ever compromising on the quality of the output, we offer the most competitive and reasonable prices on the market. Quality is always higher than standard expectations, no matter the price.
Providing customized Shopify online store development & maintenance services, Talentiqo is an expert Shopify app development company. In our years of experience with Shopify stores, we've selected a suitable theme, added products, and set up payment/shipping methods to launch a successful online store. With our advanced solutions, we can help you achieve your business goals whether you're starting from scratch or maintaining an existing store.
An eCommerce platform such as Bigcommerce has everything you need to create a successful e-store. With Bigcommerce Development, you can easily create, host, manage, and grow your e-store. Talentiqo provides e-commerce solutions using BigCommerce with extensive experience in providing customized eCommerce solutions. BigCommerce development solutions are available from Talentiqo.
There are several open-source eCommerce plugins available for WordPress, but WooCommerce is the most popular. WordPress merchants of all sizes can use it. With WooCommerce Development, you can manage digital and physical products with advanced store management. It is one of the most popular and trusted ecommerce solutions for WordPress. By nature and through the addition of extensions, WooCommerce offers extensive features and is highly flexible. Talentiqo offers all the tools needed to set up a shop with its extensions and a large catalog of commercial products. Creating a shop quickly can be difficult. Talentiqo makes it easy to understand and learn how to set it up. Without modifying the theme, we can enhance your WordPress website with Woothemes features.
We at Talentiqo have well-experienced and skilled developers for Cs – Cart setup, customization, and integration. Our developers have set up, customized, and integrated many ecommerce shopping carts using the Cs-Cart platform. Here every Cs-Cart application is developed keeping in mind its compatibility with the search engines. Clients can also hire a dedicated Cs-Cart developer/programmer to their project from our Cs-Cart developer's team to meet their requirements.
The Cs-Cart software we offer is completely customized and has a huge potential for its users. This shopping cart system is based on Smarty and written in PHP/MySQL. Your store can be customized with Cs-Cart's powerful features to create the store you want. In order to create successful online businesses, it provides all the necessary functionality. Among the many features you can use are product pages, buttons, colors, headers, page content, and product information.
Ecommerce Development